Evergreen content is high ROI content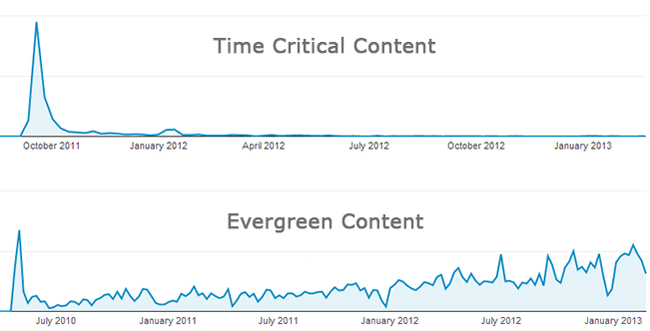 In an organization, evergreen content consists of the posts and articles, posts, white papers, sales collateral and other content types that will always be relevant to your audience and considered up-to-date. Examples include "how to" guides and tutorials, resource lists, FAQs and glossaries, each of which benefit from the structure of custom formats suited to their use. Distinguishing between evergreen and date-oriented content is the first step to making effective use of this important type of content.
Evergreen content:
is content that will always be considered up-to-date and that will always be of primary interest to the readers of your blog
is more effective than date-oriented content, as it can be written once and enjoyed by many different readers over time
benefits readers by providing basic information that's crucial to understanding and enjoying other articles posted to the site
distills all of the enduring knowledge you have to share with your audience
Examples are "How to" guides and tutorials; resource lists; Frequently Asked Questions or FAQ posts and industry glossaries (definitions). Note that these are well-suited to custom formats suited to their structure.
Even the most everlasting of evergreen topics must be occasionally revisited to ensure that they're up-to-date and continue to be correct.
There are a variety of techniques to call out these valuable posts so they come to the attention of new site visitors.