Boost your ranking with structured data SEO presentation at PodCamp 2017-02-26
The slides presented at the Boost your Google ranking dramatically now with structured data lipstick | PCTO17 session at the PodCamp Toronto 2017 conference are available in a downloadable PDF version:
SEO structured data presentation PDF for PodCamp Toronto 2017-02-26 event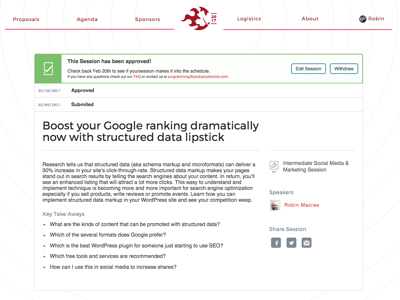 See also Data Markup Strategy for SEO notes, 2016-11-23 | WordPress Toronto Meetup, my earlier post with extensive structured data research notes including articles and posts explaining key concepts and techniques in greater detail.
At PodCamp 2017, I made a second presentation the details and slides of which are in the Digital workplace presentation at PodCamp 2017-02-25 – Workspace Builders post.
If you found my presentation useful, a tweet to that effect would be appreciated (@Robin_Macrae #SEO #structured data #WPTO).
 The presentation slides
Boost your Google ranking dramatically now
with structured data lipstick